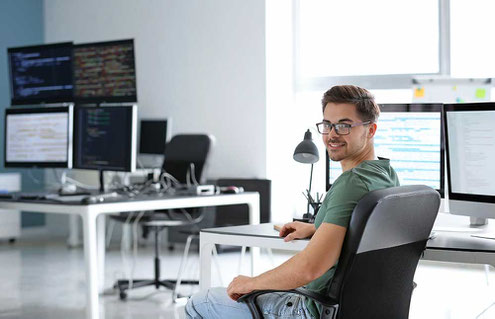 Companies can become more attractive to employees by offering coworking. Coworking can counteract the shortage of skilled workers when applied strategically. Skilled workers and specialists prefer flexibility, exchange, and short distances. As a result, coworking spaces offer advantages for hiring and retaining valued employees.
These strategic advantages include:
flexibility
short distances
predictable costs
compliance with workplace regulations
innovative working environments
Employees' perspective on coworking spaces
For new employees, coworking spaces are new and innovative. Coworking offers exchange and cooperation within a diverse and interdisciplinary community.  Specialists can therefore strive and grow in coworking spaces without being in competition. For many coworkers, this "social life" is an important factor in choosing a company.
When it comes to onboarding and team building, a few details matter. In particular, the location and equipment of the coworking space are important factors. Good accessibility to various means of transport is a must. Usability throughout the whole working day is important, too. Little is gained from the employees' point of view when the office leads to fatigue, lack of focus and stress. Therefore certain workplace regulations need to be considered. However, if these factors are met, coworking spaces can increase their attractiveness for skilled workers in the long term. Therefore, companies are well advised to strategically choose the location and structure of coworking spaces in order to counteract the shortage of skilled workers.
Advantages of coworking spaces from the companies' point of view
From a company's point of view, coworking spaces offer two advantages: flexibility and standards. Well-managed spaces meet the standards of good workplaces. They are fully equipped, with a well-maintained building technology. They are clean. Information technology is state of the art. Data protection and the protection of intellectual property are thoroughly implemented. Many of these aspects are regularly neglected in the home office, whereas all of this requirements are met in a professional office.
However, a professional office is always associated with costs. This is where coworking offers flexibility and savings. Coworking spaces often make it possible to grow flexibly and only rent as much as needed. In addition, the rental periods in coworking spaces are short. Companies therefore commit to far less costs than for conventional offices.
High potential, specialists, and Munich
In Munich, old industry and young digital companies are flourishing. Global players, start-ups and long-established companies mingle. The labor market in Munich is therefore tight. 
In light of these developments, companies strategically rely on coworking spaces to stay attractive to skilled workers. Modern working environments and attractive locations enhance the work day in the office. In combination with home office and flexible work, coworking spaces are attractive and cost-efficient. Coworking in Munich is therefore particularly suitable for dynamic companies.
Organization and legal
New work, hybrid work, coworking or home office…there are several buzzwords to refer to new forms of work. But certain aspects of work have not changed. There are still labor law requirements that define specific standards. If you want to bring new specialists into the team, you cannot neglect these standards. Otherwise, retaining new talent could turn out to be a self-created challenge. Nutrion's coworking spaces meet all labor law and organizational requirements.
Infrastructure and advantage of Nutrion's coworking spaces
 If you rent a coworking space in Munich from Nutrion, you are securing the best equipment and the finest infrastructure. Nutrion offers you a fixed price guarantee. Furniture, equipment and infrastructure are included in the cost of rent. Our coworking spaces in Munich impress with flexible terms and low rents. There are no hidden costs. Nutrion offers you the following advantages:
Fully equipped and furnished offices
High-speed Wi-Fi included
Always open: 24/7 and 365 days a year
Individual postal address 
Best connections to subway, suburban train and parking lots
Private offices ensure privacy and compliance
Flexible terms according to your dynamic growth
Meeting rooms at no extra charge
Presentation technology, flip charts and moderation accessories at no extra charge
Unlimited coffee
All services from coffee kitchen, internet and cleaning are included. There are no additional costs and no unnecessary administration. Your new employees can concentrate on their core tasks from day one. Find out more about our coworking spaces here.
Further literature
Visit our coworking spaces in Munich
Convince yourself of our clear and focused coworking concept. Our doors are always open for you to visit us. We look forward to your appointment request: Just give us a call and move in!