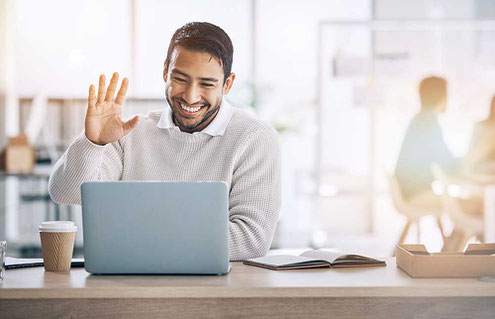 Simply rent an office space in Munich. Our offices are flexible and fully furnished. You can focus on your work  from day one on. Meeting rooms, internet and kitchenette with coffee machines are included. There are no extra fees. Our spaces are located centrally and have excellent connections to the airport, train stations and highways.
Modern equipment and the best infrastructure
When you rent a Nutrion office space in Munich, you receive the best equipment and infrastructure. Nutrion offers you a fixed price guarantee. Furniture, equipment and infrastructure are included in the office rent. Our office spaces in Munich are unique in offering flexible terms and low rents with no hidden costs. Nutrion offers you the following advantages: 
Fully equipped and furnished offices
High-speed Wi-Fi and LAN included
Your own server connection and landline telephone connection possible
Always open: 24/7 and 365 days a year
Your own postal address
Connection to subway, S-Bahn and parking lots
Each office ensures privacy and compliance
Flexible terms according to your dynamic growth
Meeting rooms and telephone booths 
Kitchen equipped with espresso machine at no extra charge
Focus on your work from day one on! We offer you flat-rate use of the spacious conference rooms and meeting rooms. All services from unlimited coffee and kitchenette  to internet and cleaning services are included. There are no additional costs and no unnecessary administration.
Office space including meeting rooms – rent flexibly.
The meeting rooms are already included in the Nutrion service package. If you rent one of our offices, you have free access. All our meeting rooms are quiet and offer the perfect space for receiving clients and business partners. Telephone booths are available for online meetings. Presentation technology, flip charts and moderation materials support your meeting. You can easily book our meeting rooms in advance.
Rental prices for office space in Munich from Nutrion
Our offices are specifically designed for dynamic companies, ventures and start-ups. We have chosen a clear pricing model. Nutrion calculates the rent per number of desks that can be available in the office:
For example, if you rent an office for two people in our co-working space in Munich Laim, the total rent is €1,298 net per month. Nutrion offers different sized offices to suit your specific needs. You can combine the offices as you wish.
Private office space and coworking
Coworking is new and innovative, offering strategic advantages for innovation and human resources. A coworking environment is particularly interesting for highly qualified talent where exchange, cooperation and current trends play an important role. Therefore, office space in coworking spaces is of high strategic value for companies.
Why coworking is cheaper
Coworking means sharing. This affects the typical cost drivers in offices. Meeting rooms, kitchens, IT are spread over many shoulders. If you rent an office space with us in Munich, you have full access to:
Modern and secure information technology
All meeting rooms
Coffee machines and kitchenettes 
Height-adjustable desks
Up to a size of around 20 employees, our spaces are the cheaper alternative for the first three years because you only have to invest in your core business. You save yourself the investment in a professional working environment.
Four spaces in Munich
Nutrion offers you office space at four locations in Munich. Our offices downtown Munich are located at:
Our offices along the Munich S-Bahn. The offices can be reached on foot in about 3 minutes: 
Get in touch