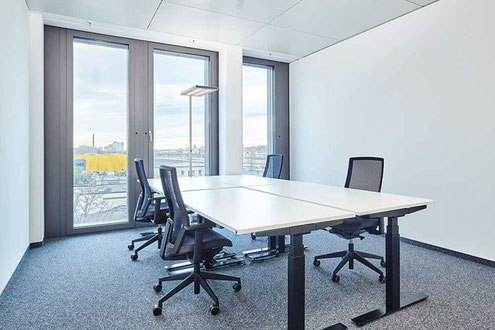 Our temporary shared offices in Munich offer you an ideal workspace. All offices are fully equipped. This makes them ideal for projects, ventures and start-ups. You can work calmly and concentrated thanks to:
High-speed Internet
Cafeteria with coffee at flat rate
Protection of intellectual property
All temporary shared offices are fully furnished and ready to use. Get in touch and move in.
Simply rent offices in Munich
You can easily rent our temporary shared offices in Munich. All offices are ready to use. You have enough space for different teams and can customize your office as you need it. You have unlimited access 24 hours a day, 7 days a week. Our fully equipped offices come with: 
Adjustable desks
Ergonomic chairs
Lockable storage space
When you close the door, the temporary shared office guarantees silence and privacy. It is lockable and hygienically clean. Data protection and the security of intellectual property are guaranteed. The easiest way to view your future office is to set up a visit and get to know your future office in Munich.
Facilities and services – temporary shared offices in Munich
Our temporary shared offices have short, individual terms and low fees. We offer full use of our infrastructure:
Fully equipped and furnished offices
High-speed Wi-Fi and LAN included
Your own server connection and landline telephone connection possible
Always open: 24/7 and 365 days a year
Your own postal address
Connection to subway, S-Bahn and parking lots
Privacy and compliance in each office
Flexible terms according to your dynamic growth
Meeting rooms and telephone booths
Kitchen equipped with espresso machine at no extra charge
The monthly rent includes the use of the conference and meeting rooms, the high-quality infrastructure, and all services from coffee to high-speed internet to cleaning service. You pay no additional costs for our temporary shared offices.
Temporary shared offices in Munich – Nutrion
On the map you will find the locations of our offices in Munich.
Rental prices for temporary shared office spaces in Munich – Nutrion
Our offices are specifically designed for dynamic companies, ventures and start-ups. We have chosen a clear pricing model. Nutrion calculates the rent per number of desks available in each office:
For example, if you rent an office for two people in our co-working space in Munich Laim, the total rent is €1,298 net per month. Nutrion offers different sized offices to suit your specific needs. You can combine the offices as you wish.
Meeting rooms as real added value of temporary shared offices
The meeting rooms are already included in the Nutrion service package. If you rent one of our offices, you have free access. All our meeting rooms are quiet and offer the perfect space for receiving clients and business partners. Telephone booths are available for online meetings. Presentation technology, flip charts and moderation materials support your meeting. You can easily book our meeting rooms in advance.
Affordable temporary shared offices in Munich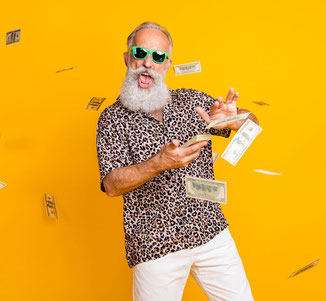 In metropolitan areas like Munich real estate is expensive. In particular, short-term offices are expensive because all costs have to be covered fully from the start. However, investments in IT infrastructure, kitchens and conference furniture only pay off after a few years.
That all changes if you simply share the typical cost drivers. Meeting rooms, internet-infrastructure and kitchen are included in shared offices and are spread over many shoulders. Therefore, a temporary shared office is cheaper than your own office in the first three years and with fewer than twenty employees.
Viewing appointment for temporary shared offices in Munich