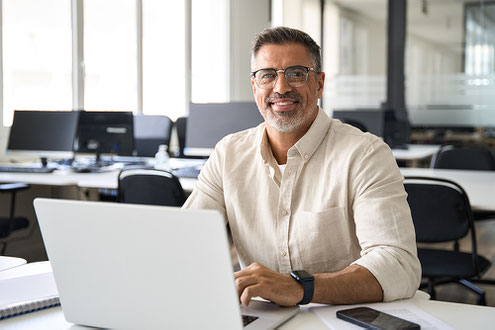 Nutrion defines a good work space as one that allows you to concentrate on your work in a calm, focused environment. Therefore, we provide offices in Munich that meet the demands of mobile working and modern service. The ideal hub for hybrid working. Simply combine client appointments, online meetings and home office with a stable work space. 
Our work spaces in Munich offer companies, project teams and startups a focused working environment:
Ready to use
Short, flexible contracts
Wi-Fi and meeting rooms included
Four work spaces in Munich with flexible office sizes are available.
Nutrion provides you with a private office in one of our work spaces in Munich. All offices are fully equipped and ready to go. Just move in and start working in 15 minutes. Wi-Fi, meeting rooms, coffee, desks, and cleaning services are already organized. Each monthly rent payment provides you with the following advantages: 
Maximum flexibility for your dynamic growth
Fully equipped furnishing
Open 24/7 and 365 days a year 
Postal address and company name in the lobby
Free high-speed wireless and wired internet connection
Meeting rooms free of charge 
Unlimited access to the cafeteria
Available parking
Excellent location with easy connections to Munich Central Station and the airport
Lockable offices to ensure privacy and data security.
No commission for rental
Our work spaces in Munich are located in the most urban, central spots and all are easy to reach by subway, train or car. Just get in touch and move into one of our coworking spaces in Munich. 
Map
Four work spaces in Munich with flexible office sizes are available.
Meeting rooms are included in the rent.
You have full access to our meeting rooms so you can work undisturbed. The use of our meeting rooms is included in the rent. There are no additional costs.
Our meeting rooms are quiet and well designed. You can easily book the rooms in advance. This way you can be sure that they will be available. We support you with the latest presentation technology.
Pricing of our work spaces in Munich
Nutrion offers all-inclusive pricing. There are no further costs–just the monthly rent for the coworking office. The pricing depends on the number of desks that fit in your office. Get more information about the pricing here. 
Protection of intellectual property in our work spaces
Intellectual work creates intellectual property. Concepts, know-how and data require special protection. Therefore, data protection and the protection of intellectual property are central requirements for Nutrion. All offices and the IT infrastructure are designed for privacy and data protection. You can work undisturbed and know your data is safe.
Work spaces in Munich as a hub for hybrid working.
Hybrid working has become the new normal. To work from everywhere has become part of everyday life. People develop their projects on the move, at the customer's premises or from home without interruption. A place where one can focus and do the tasks that need an undisturbed and concentrated manner is especially needed today. Work spaces from Nutrion offer just that: calmness and concentration. 
In addition, our meeting rooms offer a hub for the whole team to meet.
Get in touch.