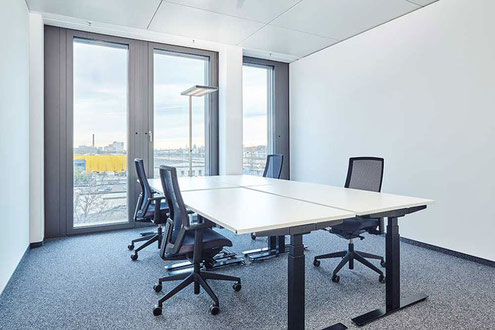 There are different types of coworking spaces on the market. You can find the most important criteria for choosing the right coworking space for you here. You will also learn about services and unique features of Nutrion coworking in Munich. 
Criteria for coworking spaces – Which one fits your needs.
Nutrion only offers private offices in the coworking spaces. We skipped open-plan offices or flying desks. Therefore, Nutrion offers ideal  protection of intellectual property. We value data protection and privacy. Each office is lockable. You can safely leave your devices and paperwork in the office at the end of the day. Thus Nutrion is attractive for banks, consultants and tax agents as well as startups. 
Of course, other concepts exist for other needs. The most important criteria for choosing a coworking space is the nature of your work:
If you need machines and workshops to do your work, a maker space is recommended.
If you only work very irregularly and at different locations, then a day pass in a coworking café might be a good solution for you.
If you belong to the ecosystem of a corporation and need to work in close coordination, choose a local campus.
If you see no need to protect the intellectual property of your work, then you may opt for an open-plan office and share your desk with different freelancers. 
Nutrion was developed for companies, start-ups and ventures. Very often the intellectual property is the most valuable asset in the beginning of any venture. Ideas matter.
Munich locations of Nutrion's four coworking-spaces
On the map you will find the locations of our coworking spaces in Munich.
Privacy and hygiene – what makes Nutrion special
Our coworking spaces in Munich offer a unique feature. Every tenant gets a private office. All tenants have access to the shared spaces, such as the cafeteria, meeting rooms and telephone both. This reduces costs for all tenants and creates efficient use. A booking system creates predictability and reliability. 
Every tenant has their own private office. We do not offer open plan offices or flying desks. In this way we guarantee that all our coworking areas offer:
Calm offices
Privacy
Hygiene
Protection of intellectual property.
Our tenants appreciate the undisturbed focus you get in our private coworking offices, setting Nutrion apart from its competitors.
Rental prices for coworking in Munich – Nutrion
Nutrion leases out the offices per desk. The pricing is transparent and easy to calculate. The number of desks that fit in your private office multiplied with the factor of the office space equals the monthly rent. 
For example: if you rent an office for three people in Munich Schwabing you are charged 3 * €699 = €2,097 + VAT per month including all services. Please find detailed information about the pricing of our spaces in Munich here.
Viewing appointment for Nutrion coworking offices.